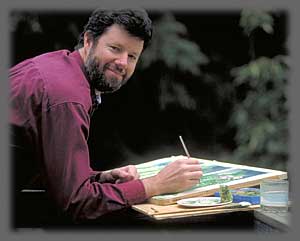 ANDY was born in the state of Washington. At age seven his family moved, and he was raised in Ketchum/Sun Valley, Idaho. He developed a love for the outdoors at an early age as he spent many hours fishing, hunting, hiking, skiing, riding motorcycles, and recreating around local lakes and creeks. With so many special memories, and his love for the great outdoors, Andy has many resources from which to draw for his paintings.
In 1989, Andy graduated from the University of Idaho, earning a Bachelor of Fine Arts Degree in Graphic Design with a major emphasis in watercolor. He worked for three years as a Graphic Designer for The Appaloosa Journal, a full-color award-winning international horse magazine. Working for the magazine, Andy had opportunity to use watercolor in his designs, and won several awards for his work. After working at the magazine, he worked a few years as a designer for the University of Idaho then he joined the team of a fortune 500 company as creative director for the next 8 years. With the success Andy found doing art shows part time however, he decided to make painting his full-time occupation In October of 2003. Andy is committed to being a painter, and remain an involved husband and father.

Andy enjoys the moods that can be created and captured in watercolor. The soft, light, unthreatening feelings which can be expressed through this medium, intrigue and challenge him. He believes when one can truly conquer the watercolor medium and keep it under control, something significant has been accomplished. Andy is determined to do this. Some of Andy's favorite things to paint are country scenes with old barns, trucks, and country churches. Andy, an avid fisherman and outdoorsman, also enjoys painting some wildlife, fish and fishing themes. He will also continue to paint flowers and beautiful northwest landscapes. He wants his paintings to take full advantage of the medium, from loose flowing washes to tightly rendered details. He desires to paint what would be difficult or next to impossible to capture with a camera, yet possible to visually create in a painting. He strives for an almost photographic reality in places yet at the same time produce an obviously painted image.

Andy strives to paint subjects that are impactive to the viewer in positive, personal, and meaningful ways; perhaps catching a glimpse of nature and freezing it in time to continuously bring delight and pleasure to the viewer. He wants his paintings to cause his viewers to rekindle timeless memories of special places and things experienced in their own lives.

Furthermore, Andy's goal is that his paintings portray truth and virtue, and instill in the viewer deep feelings of appreciation for God's beautiful creation. He hopes his paintings leave the viewer with feelings of contentment and peace.

Finally, brethren whatsoever things are true, whatsoever things are honest,
whatsoever things are just, whatsoever things are pure, whatsoever things are lovely,
whatsoever things are of good report; if there be any virtue,
and if there be any praise, think on these things.
Phillipians 4:8

If you haven't yet, please do sign my guestbook, or email me. Share your comments and tell me what your favorite painting is! Are you more interested in prints or originals? Do you want an email back or a postcard of my latest work and schedule sent a few times a year? Please take a moment for this. It really helps me out. Thanks!